Transportation Electrification
California has an objective to achieve five million zero-emission vehicles (ZEVs) on the road by 2030 and 250,000 electric vehicle charging stations by 2025 as directed in the Executive Order (E.O.) B-48-18). Further, by 2035, all new cars and passenger trucks sold in California must be ZEVs (E.O. N-79-20). These actions are essential to meeting California's air quality and climate change targets since the transportation sector contributes 83% of oxides of nitrogen emissions, 95% of diesel particulate matter and nearly 35% of statewide greenhouse gas (GHG) emissions (CARB emission inventory). ZEVs include battery plug-in electric vehicles, plug-in hybrid electric vehicles, and hydrogen fuel cell electric vehicles as they do not emit any greenhouse gases or air pollutant emissions from their tailpipes.
The tables below summarize the actions taken by California's Legislature and recent Executive Orders.
| | | | |
| --- | --- | --- | --- |
| Bill | Sponsor | Year | Short Description |
| | Nunez | 2006 | California Global Warming Solutions Act |
| | Kehoe | 2009 | Plug-in Hybrid and Electric Vehicle Fueling Infrastructure |
| | De Leon | 2015 | Clean Energy and Pollution Reduction Act of 2015 |
| | Burke | 2017 | Electric Vehicle Charging Infrastructure: School Facilities and other Educational Institutions |
| | Burke | 2017 | Electric Vehicle Charging Infrastructure: State Parks and Beaches |
| | Skinner | 2018 | California Clean Miles Standard and Incentive Program: Zero-emission Vehicles |
| | Lara | 2018 | Electric Vehicle Charging Infrastructure |
| | Ting | 2018 | Electric Vehicle Charging Infrastructure: assessment |
| | Bradford | 2019 | Electric Vehicles-Grid Integration |
| | | | |
| --- | --- | --- | --- |
| E.O. | Governor | Year | Short Description |
| | Newsom | 2020 | 100% medium- and heavy-duty vehicles be zero-emission by 2045 where feasible; and drayage trucks by 2035; 100% zero-emission off-road vehicles and equipment by 2035 where feasible |
| | Brown | 2018 | Target five million ZEVs by 2030, 250,000 public EV charging stations; 10,000 fast charging stations |
| | Brown | 2012 | Target one million ZEVs on the road by 2025 |
The California Public Utilities Commission (CPUC) plays a critical role in achieving these targets. Through its authority to regulate the six electric investor-owned utilities (IOUs) it is directing strategic investments for:
Providing incentives for electric vehicle charging infrastructure and upgrading the electric grid
Designing electricity rates that impact the cost of fueling and ensure charging benefits the grid
Adopting vehicle-grid integration (VGI) policy and pilots
Conducting program evaluation and interagency coordination to ensure electric IOU investments to support ZEVs are strategically coordinated
In December 2018, the CPUC launched an Order Instituting Rulemaking (OIR) to Continue the Development of Rates and Infrastructure for Vehicle Electrification (DRIVE). This OIR R.18-12-006 refocused strategic planning related to transportation electrification (TE). Energy Division staff has issued a draft Transportation Electrification Framework (TEF) in February 2020 (Draft TEF) that would streamline and strategize TE investments to achieve our ambitious State targets. Throughout this process, the CPUC engages the public and stakeholders and receives feedback on the proposal by accepting multiple rounds of comments and holding workshops.
SB 350 TE Programs
On September 27, 2018 the CPUC unanimously adopted D.18-09-034 authorizing the three small electric utilities in California (PacifiCorp, Bear Valley Electric Service, and Liberty Utilities) to spend up to $7.33 million on eight transportation electrification programs and test a new electric vehicle rate aimed at helping the state meet its goals to accelerate EV adoption, improve air quality, and reduce greenhouse gas emissions. The decision also sets aside $301,999 for evaluation of the approved projects, which will occur in conjunction with evaluation of the larger IOUs' SB 350 programs described below. A summary of the programs as authorized in the D.18-09-034 and their associated budgets is available here.
On May 31, 2018, the CPUC approved $738 million in transportation electrification projects for the state's electric utilities. D.18-05-040 approves significant investments to support the electrification of the medium- and heavy-duty sectors in PG&E and SCE service territory and a residential charging station rebate program for SDG&E's customers. A summary of the approved programs and their budgets can be found here.
On January 11, 2018, the CPUC approved the first transportation electrification applications under SB 350 from the three large investor-owned utilities. The decision approves 15 projects with combined budgets of $42 million. These 'priority review' pilot projects were considered by the Commission on an expedited schedule. A summary of the approved programs and their budgets can be found here.
A summary table of the programs that have been approved under SB 350 to date is available here.
SDG&E filed an application for medium- and heavy-duty electric vehicle charging infrastructure on January 22, 2018:
SB 350 TE Reporting Requirements
For Priority Review Programs use:
For Standard Review Programs use:
The CPUC hosted a workshop on May 9, 2019 to discuss current data collection and reporting efforts and potential strategies to improve the IOUs' TE program evaluation plans to ensure the ratepayer-funded investments are supporting the state's SB 350 goals. The agenda is available for download here, and presentations from and comments on the workshop are available below:
PRESENTATIONS
COMMENTS
PROGRAM EVALUATIONS
Upcoming Events
Reply comments for Sections 7 and 8 of the Energy Division Staff Draft Transportation Electrification Framework are due on August 7, 2020. The remaining comment and reply deadlies are detailed in the following table:
Recent News
Energy Division staff hosted a virtual workshop on Monday, April 20 to discuss the role of the investor-owned utilities in supporting the electrification of the transportation sector, as proposed in Chapter 4 of the Energy Division staff proposed . The agenda is available for download here.
Meeting Materials:
On March 24, 2020, ALJ Doherty issued an email ruling updating the schedule for the current ZEV rulemaking, R.18-12-006 (DRIVE OIR). Comments on the first sections of the Energy Division Draft Transportation Electrification Framework (TEF) (sections 2, 3.1, 3.2, 3.3, 4, and 5) are due on April 27, 2020. Opening comments on sections 3.4 and 11.3 are due on May 11, 2020.
Fast Facts
California has a goal of 5 million ZEVs on the roads by 2030 and 250,000 electric vehicle charging stations by 2025.
ZEVs help California meet its goal of cutting greenhouse gas emissions to 40 percent below 1990 levels by 2030 and the health-based air quality requirements established in the federal Clean Air Act.
More than 18,000 light-duty electric vehicle charging plugs are publicly-available throughout the state.

Rebates and Incentives
Low-Carbon Fuel Standard Rebates
The electric utilities provide rebates to their customers that drive plug-in electric vehicles (PEVs).
The natural gas utilities provide rebates to their customers that use natural gas to fuel their vehicles.
PGE&E Clean Fuel Rebate
Southern California Gas Company (SoCalGas) and SDG&E rebates are under development.
Funds for these rebates come from the utilities' sales of credits received through California's Low Carbon Fuel Standard (LCFS). ZEV drivers generate LCFS credits by using low-carbon fuels, and the utilities receive credits on behalf of their customers.
Starting in 2020, the IOUs will be transitioning their LCFS rebates to a point-of-purchase incentive that reduces the upfront cost of buying or leasing an EV. The new statewide Clean Fuel Reward program was created through changes to CARB's LCFS regulation in 2018, and will be administered by SCE in the first three years of the program. The CFR will be available to customers of any participating utility, including municipal utilities, that choose to opt in to the new program.
Utility Shareholder-Funded Incentives
SDG&E offers a $1,000 point-of-sale rebate to eligible teachers and first-responders in its service territory through its Champions For Clean Air program.
State Vehicle Rebates
Customers that purchase or lease an electric vehicle may be eligible for rebates through the Clean Vehicle Rebate Project. This program has issued more than $823 million in rebates since the program started in 2010.
Drive Clean
Visit ARB's buying guide for clean and efficient vehicles to identify additional incentives.
Rates
Plug-in Electric Vehicle Rates
PG&E, SCE, SDG&E and Liberty each offer electric vehicle "time-of-use" energy rates for residential customers. Time-of-use rates encourage customers to charge during "off-peak" hours. This helps minimize the impact of the energy demand from electric vehicles on the electric grid. Customers may elect to measure both their home and electric vehicle energy use on one meter or measure them separately.
SCE, PG&E, and SDG&E and Liberty also offer rates for commercial customers' electric vehicle charging. For more details about the IOUs' existing EV-specific rates for residential and commercial customers click here.
The CPUC hosted a ZEV Rate Design Forum on June 7-8, 2018 to review and evaluate electric rate designs that could support the state's ZEV goals. Documents and recordings are available here.
Plug-in Electric Vehicle Submetering Pilot
Residential and commercial plug-in electric vehicle customers of PG&E, SCE, and SDG&E, including Net Energy Metering customers, are also eligible to participate in the Plug-In Electric Vehicle Submetering pilot, which uses energy meters specifically for PEV charging to help drivers save on fuel costs and avoid paying to install a new utility meter just for their PEV. Phase 1 of the pilot has been completed and Phase 2 begins runs from January 2017 through April 2018.
Charging Infrastructure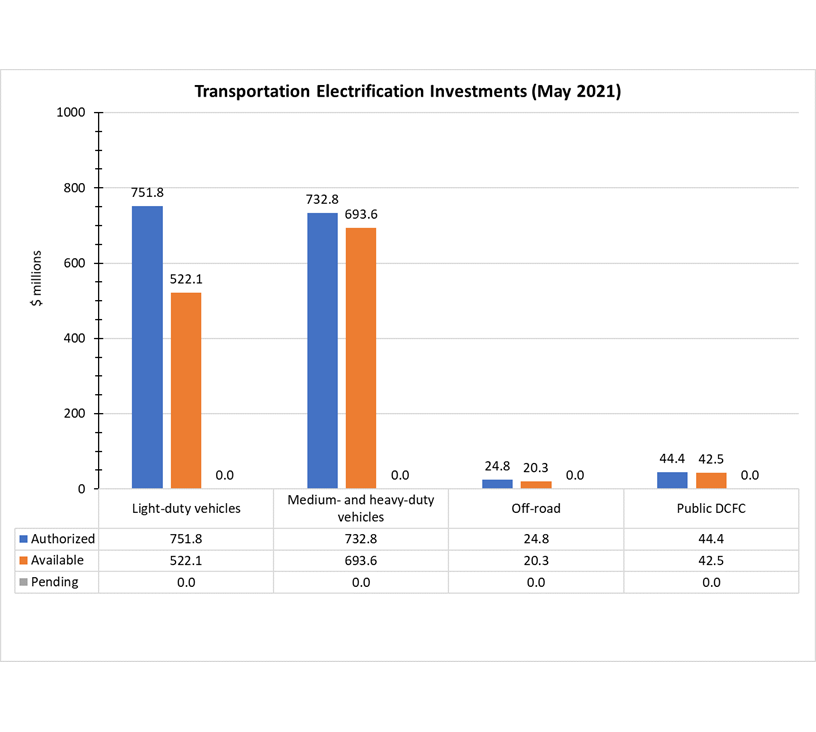 Infrastructure Pilot Programs
PG&E, SCE, and SDG&E are currently implementing pilot programs to install infrastructure to support electric vehicle charging at multi-unit dwellings, workplaces, and public interest destinations. Each utility convenes a program advisory council comprised of representatives from state agencies, ratepayer advocates, environmental justice groups, technology providers, automakers, and others to provide feedback and guidance on pilot design and implementation. The three utility pilots will install the infrastructure to support up to 12,500 charging stations with total budgets up to $197 million. This table summarizes key pilot information.
Proposed IOU Infrastructure programs
The CPUC has authorized the IOUs to implement several charging infrastructure programs as required under Senate Bill 350 as described here.
CPUC/NRG Settlement
In 2012, the Federal Energy Regulatory Commission (FERC) approved an agreement between NRG Energy and the CPUC to settle outstanding legal issues regarding the 2000 California energy crisis. The settlement required NRG to invest $102.5 million in electric vehicle charging infrastructure across the state at no cost to site hosts. NRG installed public fast-charging stations, make electrical upgrades to support electric vehicle charging at existing building facilities ("make-ready infrastructure"), fund technological research and development programs related to electric vehicle charging strategies, and support electric vehicle access programs for under-served communities.
NRG submitted quarterly reports on its progress in fulfilling provisions of the settlement agreement and provide a list of its public charging stations and make-ready installations.
The settlement calls for NRG to finance two third-party audits of its compliance with the settlement agreement. The first tracked NRG's progress midway through settlement implementation, and provides a third-party opinion on NRG's compliance with the settlement conditions and provisions as of the settlement's midpoint. The mid-term review audit is available here.
As of January 2020, the Settlement expenditures are complete and the final project audit is currently underway.
More details on the settlement, including NRG's quarterly and annual reports, are available here.
Recent CPUC TE Infrastructure Actions:
In 2019, the CPUC took several actions to advance the state's TE goals, including the adoption of a new rate design and authorizing the utilities to spend millions of dollars to support additional EV charging infrastructure:
Decision (D.)19-08-026 (August 2019): SDG&E is authorized to spend more than $107 million to support the installation of charging infrastructure for medium- and heavy-duty electric vehicles., SDG&E must spend at least 30 percent of its program budget in disadvantaged communities, which are disproportionately burdened by and vulnerable to multiple sources of pollution. Although medium and heavy-duty vehicles represent only 10 percent of all vehicles in the state, they are responsible for 25 percent of the GHG transportation emissions. The program is expected to electrify approximately 3,000 vehicles ranging from forklifts to school buses to semi-trucks.
D.19-09-006 (September 2019): PG&E is authorized to implement a program specifically targeting an important priority area: ensuring that low-income residents are not left behind as California transitions to electric vehicles. The CPUC in D.19-09-006 authorized PG&E to spend up to $4 million PG&E to provide rebates for charging infrastructure to low to moderate income customers in its service territory. The decision includes additional incentives for those customers, including a rebate to compensate for the purchase of a home EV charger, as well as for the panel upgrade often necessary for installation.
D.19-10-055 (October 2019):
PG&E is authorized to implement a new subscription-based EV rate design for commercial and industrial customers, a group that includes transit fleet operators, owners of electric delivery trucks, and providers of public charging stations. The new rate eliminates demand charges and instead implements a subscription model similar to cell phone bills, with time-of-use volumetric energy charges that encourage customers to charge off-peak. Customers will be able to "buy" a block of capacity that should meet their highest demand and then manage charging to not surpass it. The subscription charge replaces the typical demand charge, which assesses a monthly fee based on customers' highest monthly usage. SB 1000 (Lara, 2018) directed the CPUC to, within an existing proceeding (or proceedings), consider strategies to help customers transitioning to EVs reduce and manage demand charges, and this Decision was a first step in the CPUC's implementation of that legislative directive.
D.19-11-017 (November 2019):As required by AB 1082 and AB 1083 (Burke, 2017) the CPUC approved pilot programs for electric vehicle (EV) charging in parks, beaches and schools for PG&E, SDG&E, SCE and Liberty Utilities. The four utilities will spend a combined $55 million to install up to 800 charging ports. Between 25 percent and 100 percent will be in disadvantaged communities, depending on the program.
Vehicle-Grid Integration
The CPUC, in collaboration with other state agencies, is developing policies that support vehicle-grid integration (VGI). VGI helps align electric vehicle charging with the needs of the electric grid. To do this, electric vehicles must have capabilities to manage charging or support two-way interaction between vehicles and the grid. Additional information and documentation can be found on the VGI working group website.
Pilot Programs
EPIC Program
The Electric Program Investment Charge (EPIC) supports the development of non-commercialized new and emerging clean energy technologies in California and provides assistance to commercially viable projects. The California Energy Commission administers 80 percent of the funds collected, and the three IOUs administer the remaining 20 percent. Several EPIC projects are related to vehicle-grid integration.
Demand Response Pilots
PG&E and SCE implemented "demand response" pilots for electric vehicles developed in accordance with D.12-04-045. Demand response (or DR) is when customers change their electricity usage (typically reducing use or shifting use to other times in the day) at certain times in response to economic incentives, price signals, or other conditions.
Department of Defense Vehicle-to-Grid Pilot
SCE partnered with Los Angeles Air Force Base from late 2015 to September 2017 to conduct a vehicle to grid (V2G) pilot program that allowed its electric vehicle fleet to send power back to the electric grid. The vehicle batteries acted as storage, charging when power was cheapest – typically midday when renewable energy generation peaks – and discharge energy back to the grid when there were supply constraints. The fleet of 34 electric and hybrid vehicles served as a storage resource participating in the California power market. Throughout the pilot, which was funded by the California Energy Commission and the U.S. Department of Defense, SCE provided L.A. Air Force Base a specific vehicle-to-grid (V2G) rate.
The final pilot report can be found here.
Low Carbon Transportation Choices Research
The Air Resources Board's low carbon transportation choices research program seeks to improve understanding of what drives vehicle choices, identify real-world emissions benefits of new and used electric vehicles and help increase adoption of zero and low-emissions vehicles across all income levels. Results of ARB's research through this program helps inform many of its clean vehicle incentive programs.
Regulatory History
The CPUC works jointly with other state agencies to meet California's goal of reducing greenhouse gas emissions (GHG) and criteria air pollutants from the transportation sector.
The CPUC began implementing policies aimed at reducing emissions from transportation energy in 1990 but its work escalated in 2006 after the passage of Assembly Bill (AB) 32, the Global Warming Solutions Act, which aims to reduce greenhouse gas emissions to 1990 levels by 2020.
In 2009, pursuant to the Scoping Plan and Senate Bill 626, the CPUC began an Alternative Fuel Vehicles rulemaking (R.09-08-009) to support the widespread deployment and use of plug-in hybrid and electric vehicles.
Prior to the existing time-of-use rates, SDG&E conducted a PEV TOU Pricing and Technology Study. Customers were eligible for Experimental PEV Rates (Rev.1) (Rev.2), approved in Resolution E-4334. SDG&E published a final evaluation of the pilot, which ended in 2013
PG&E and SCE conducted pilot projects offering time-of-use pricing to public transit systems, in an effort to develop rates that meet the charging and utilization demands of bus and other public transit fleets. These pilots were limited to three years and available only to government-owned or operated fleets, as the CPUC works to develop policies that address electric vehicle fleet charging needs and behaviors statewide.
In 2013, CPUC continued to develop rules with a specific focus on ZEVs. It decided (D.13-06-14) that the utilities should continue conducting research about the grid impacts of the load associated with electric vehicle charging and costs associated with any new transmission infrastructure needed to service increased electric vehicle load. The joint IOU load research reports can be found here:
In December 2014, the CPUC decided that investor-owned utilities could own transportation electrification infrastructure but programs must be considered on a case-by-case basis. This facilitated the development of PG&E, SCE and SDG&E's infrastructure pilot programs.
In recent years, CPUC has hosted several workshops to help inform its policy making including these listed below:
The current, ongoing proceeding, R.18-12-006, seeks to develop rates and infrastructure that ensures ZEVs efficiently integrate with the utility grid and have access to fair rates that encourage electrification. CPUC is also working with other state agencies to implement policies and programs that encourage the deployment of charging equipment and infrastructure. A key part of the agencies' work is focused on implementing requirements set forth by California Senate Bill (SB) 350 to support widespread transportation electrification. More information about the investor-owned utilities' most recent proposals to accelerate the deployment of transportation electrification is available on the SB 350 transportation electrification website.
Resources
Research Database
In 2018, CPUC collected pilot project information through a new survey on zero-emission vehicle infrastructure and vehicle-grid integration research. The survey results are publicly available and can be downloaded as an Excel file.
CPUC seeks to maintain up-to-date, consolidated information on pilot programs to help researchers, regulators, and other utility and transportation stakeholders stay informed about this quickly changing field. The database includes for each project: contact information, location, participants, objectives, rates, funding, timeline, vehicles, equipment, standards, and software.
In 2016, the CPUC organized information about a variety of past and ongoing pilot projects and compiled the results into an easily-searchable presentation. This resource includes links to dozens of reports with findings from research on transportation electrification, and was last updated in August 2018.
Disadvantaged Communities
California Air Resources Board
California Energy Commission
California Sustainable Freight Action Plan
An interagencyaction plan aimed at improving freight efficiency, transitioning to cleaner fuels, and increasing the competitiveness of California's freight system.
CPUC Contacts
For a list of CPUC Staff Contacts by subject matter, click here.
Media please contact the CPUC's News Office at (415)703-1366 or news@cpuc.ca.gov.
There are two ways to receive information related to a Commission proceeding:
Join a proceeding service list to receive e-mails with all documents sent by the Commission, by parties participating in the proceeding, as well as notices of workshops or other events. Visit https://www.cpuc.ca.gov/become_a_party/ for instructions on how to become a party to a proceeding.
Sign up for the Commission's Subscription Service to follow a particular proceeding, industry, or type of document. Note that you will only receive documents from the subscription service once they have been accepted for filing, so there will be a delay in receiving notification of filed document. Additionally, some types of documents, such as testimony and other communications, are not provided via subscription service and are sent only to the service list.
Transportation Electrification