Environmental and Social Justice Action Plan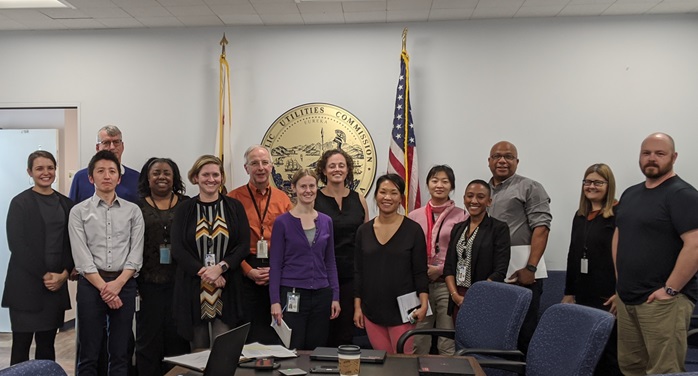 Pictured Above: CPUC Environmental & Social Justice Liaisons
About the ESJ Action Plan
Environmental justice is the fair treatment and meaningful involvement of all people in development, implementation, and enforcement of environmental policies that impact their lives and surroundings. The Environmental and Social Justice (ESJ) Action Plan identifies ways the California Public Utilities Commission (CPUC) can use its regulatory authority to address health and safety, consumer protection, and enforcement concerns across the energy, telecommunications, and water utilities as well as the railroads and transportation companies CPUC regulates. The ESJ Action Plan also highlights how the CPUC can engage directly with communities, build supportive relationships, and gather more information about the concerns Californians face and the ways they are best able to communicate those concerns to the CPUC.
The Commission is tasked with serving all Californians, and to do so effectively, the Commission must acknowledge that some populations in California face higher barriers in accessing safe and affordable utility and transport services. The ESJ Action Plan acknowledges that CPUC has a responsibility to serve Californians in a way that helps address those inequities. The ESJ Action Plan is a commitment to advancing decisions and programs that strive to provide everyone across the state with consumer protections and other benefits. The ESJ Action Plan represents the Commission's vision but does not bind the Commission legally to any specific outcomes or process.
The ESJ Action Plan is a living document. The Commission intends to review and update it every two years. Outside of this biennial cycle, the Commission will update the ESJ Action Plan as needed to track both progress and revise approaches as CPUC learns more about community concerns and the optimal ways to achieve better outcomes for Californians and the environment.
ESJ Action Plan and Status Updates
In February 2019, after months of development and public consultation, CPUC adopted an Environmental and Social Justice Action Plan (ESJ Action Plan) to serve as a roadmap to expand public inclusion in Commission decision-making and improve services to targeted communities across California. The final ESJ Action Plan is available for download here.
For a status update on implementation of the ESJ Action Plan as of May 2020, please click here.
On May 7, 2020, the CPUC presented a status report on the implementation of the ESJ Action Plan at its Voting Meeting. Watch the presentation on YouTube here
February 3 & 4, 2021 Workshop - Agenda & Recordings
This workshop consisted of interactive discussions to brainstorm opportunities to further principles of environmental and social justice in CPUC policies and activities. Participants provided feedback and ideas on topics related to incorporating ESJ impacts into proceedings, leveraging Marketing, Education, and Outreach Plans, data collection to improve ESJ-related analyses, and how CPUC industry divisions can promote ESJ within their ongoing work.
Workshop Recordings & Chat Log
ESJ Action Plan Goals
The ESJ Action Plan establishes a series of goals related to health and safety, consumer protection, program benefits, and enforcement in all the sectors the CPUC regulates.
These goals include making sure members of environmental and social justice communities participate in CPUC proceedings and decision-making and that investments in clean energy resources, transportation, and communication services benefit all communities.
Nine Goals of the ESJ Action Plan
1.Consistently integrate equity and access considerations throughout CPUC proceedings and other efforts
2.Increase investment in clean energy resources to benefit ESJ communities, especially to improve local air quality and public health.
3.Strive to improve access to high-quality water, communications, and transportation services for ESJ communities.
4.Increase climate resiliency in ESJ communities.
5.Enhance outreach and public participation opportunities for ESJ communities to meaningfully participate in the CPUC's decision-making process and benefit from CPUC programs.
6.Enhance enforcement to ensure safety and consumer protection for ESJ communities.
7.Promote economic and workforce development opportunities in ESJ communities.
8.Improve training and staff development related to ESJ issues within the CPUC's jurisdiction.
9.Monitor the CPUC's ESJ efforts to evaluate how they are achieving their objectives.
ESJ Communities
The State of California has defined environmental justice in Government Code section 65040.12.e. To guide the implementation of the ESJ Action Plan, the CPUC adapted and expanded this definition for environmental and social justice as follows:
Environmental and social justice seeks to come to terms with, and remedy, a history of unfair treatment of communities, predominantly communities of people of color and/or low-income residents. These communities have been subjected to disproportionate impacts from one or more environmental hazards, socio-economic burdens, or both. Residents have been excluded in policy setting or decision-making processes and have lacked protections and benefits afforded to other communities by the implementation of environmental and other regulations, such as those enacted to control polluting activities.
ESJ Action Plan communities are identified as those where residents are:
Predominantly communities of color or low-income;
Underrepresented in the policy setting or decision-making process;
Subject to a disproportionate impact from one or more environmental hazards; and
Likely to experience disparate implementation of environmental regulations and socioeconomic investments in their communities
On the ground, targeted communities typically include but are not limited to:
Disadvantaged Communities, located in the most environmentally burdened California census tracts, as determined by the 25 percent highest scores (75th percentile) when using Cal EPA's CalEnviroScreen tool;
All Tribal lands;
Low-income households (Household incomes below 80 percent of the area median income); and
Low-income census tracts (Census tracts where aggregated household incomes are less than 80 percent of area or state median income).
Development of the ESJ Action Plan
The ESJ Action Plan was developed through an open process with public input. The CPUC shared early drafts of the ESJ Action Plan with the public for feedback, including discussions during meetings of the Disadvantage Communities Advisory Group on August 21, 2018 and October 30, 2018. The CPUC also hosted a public webinar on November 2, 2018 to review the ESJ Action Plan and receive feedback.
Watch a recording of the CPUC Advisors' public webinar on the Draft ESJ Action Plan:
CPUC Advisors' November 2, 2018 Presentation on the Draft ESJ Action Plan
Read the written comments submitted by the public on the Draft ESJ Action Plan:
Quick Links
CPUC Activities
Low Income Oversight Board

The LIOB's vision is to maximize the benefits of utility, state and federal low-income programs to improve the health, safety and comfort of low-income customers while reducing energy consumption and greenhouse gas emissions.

California LifeLine Program

The California LifeLine Program provides discounts on home phone and cell phone services to qualified households. The California LifeLine discounts help consumers lower the cost of their phone bills.

Joint CPUC & CEC Disadvantaged Communities Advisory Group - CEC Site and the CPUC Site

Senate Bill (SB) 350, the Clean Energy and Pollution Reduction Act of 2015, requires that the California Public Utilities Commission (CPUC) and the California Energy Commission create a joint Disadvantaged Communities Advisory Group (DACAG) to provide advice on programs proposed to achieve clean energy and pollution reduction.

Subscribe to the DACAG ListServ here
CPUC and State Workforce Development Board Sign Agreement to Advance Shared Prosperity As California Transitions to Zero-Emissions Energy and Transportation Systems
Other Agencies