Mobilehome Park Utility Conversion Program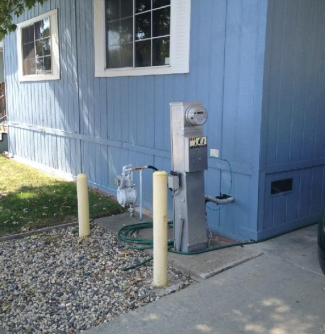 In February 2011, following a petition filed by the Western Manufactured Housing Communities Association (WMA), the CPUC opened a rulemaking proceeding (R.11-02-018) to examine what could be done to encourage owners of mobilehome parks and manufactured housing communities (both referred herein as MHPs) to upgrade aging gas and electric distribution systems in an effort to enhance both public safety and service reliability for MHP residents.
On March 13, 2014, the CPUC closed R.11-02-018 and issued Decision 14-03-021, establishing a three-year pilot program authorizing each California investor-owned utility to convert 10% of master-metered gas and/or electric MHP spaces within its operating territory to direct utility service. Due to overlap in operating territories, the utilities have jointly worked to develop processes and procedures that will allow the implementation of the pilot program to be, generally, uniform and consistent throughout California. All utilities refer to the pilot program as the Mobilehome Park Utility Upgrade Program. The CPUC encourages municipal owned utilities (e.g., SMUD, LADWP, City of Long Beach, MID, etc.) and communication providers to participate in the upgrade program; however, these entities are not mandated to participate in the upgrade program.
The Mobilehome Park Utility Upgrade Program began on January 1, 2015 and was designed to end on December 31, 2017. The program was extended by the Resolutions E-4878 (issued September 28, 2017) and E-4958 (issued March 18, 2019). On April 26, 2018, R.18-04-018 in order "to undertake a comprehensive evaluation of the MHP Pilot and determine based upon that evaluation whether the program should be adopted as a permanent MHP Utility Program on a going forward basis and if so, under what provisions and guidelines." On April 24, 2020 Decision 20-04-004 was issued which established the Mobilehome Utility Conversion Program (MHP-UCP). The MHP-UCP is designed to continue converting MHP utility infrastructure until the end of 2030, with the goal of converting a total of 50% of the spaces in each utility territory to direct gas and/or electric utility service. The program began accepting applications for this new phase on January 1, 2020 and ended the application period on March 31, 2020.
Using the applications received during the 2020 application period, and the remaining park systems on the Pilot Program list, the Safety and Enforcement Division (SED) is prioritizing systems for conversion based on risk, reliability, and other factors. They are working with the California Department of Housing and Community Development (HCD) to collect data for park utility systems. Currently, SED plans to notify all applicants regarding their status within the program by July 16, 2020, either by mail or email.
For additional information related to the Mobilehome Park Utility Conversion Program, please review the FAQs for the program. If you have further questions, please call (800)755-1447 or by e-mail at MHPUtilityUpgradeProgram@cpuc.ca.gov.
October 17, 2018 Workshop
March 20-21, 2019 Workshop
September 15, 2020 Workshop
On September 15, 2020, the Energy Division held a workshop as directed in D. 20-04-004 Ordering Paragraph 15 discussion mobilehome electrification topics. In addition to electrification topics, the workshop also explored the opportunities to provide tenant protections to the Mobilehome Park Utility Conversion program participants. The final presentation slides are available here and the workshop recording is available here.
October 29, 2020 Prehearing Conference
CPUC Form of Intent
The Form of intent for the second phase of the Mobilehome Utility Conversion Program is now available.
Ordering paragraph 2 of D.20-04-004 states that "The Mobilehome Park Utility Conversion Program timeline shall accept applications beginning on January 1, 2021, with 2020 allowed as a transition year using the existing prioritization list to reconcile existing Commission Safety and Enforcement Division lists with newly proposed lists consistent with the process following in Decision 14-03-021 and updated in this decision."
The Form of Intent was mailed to all owners of Mobilehome Parks with master-meter gas systems on file with SED. The Form of intent is also available at the link below:
Frequently Asked Questions
Gas and Electric Utilities
Beyond-the-Meter (BtM)
Utility Annual Reports Submitted Per D.14-03-021
2016 Reports
2017 Reports
2018 Reports
2019 Reports
2020 Reports
2021 Reports
2022 Reports
Mobilehome Park Utility Conversion Program