Federal Funding Account Public Map
Information on the public map released in May 2023
What's New on the FFA Public Map, Version 2 (May 2, 2023):
Added Public Map User Manual.
Data Dictionary descriptions updated.
Census Block data refined and reformatted.
Previously updated (April 2023):
Removed priority area designations.
Updated underlying data to better reflect unserved locations.
Added additional socio-economic and disadvantaged indicator layers.
Federal Funding Account Overview
The Federal Funding Account, administered by the California Public Utilities Commission (CPUC), provides $2 billion in grants for last mile broadband infrastructure projects to connect unserved and underserved Californians. The CPUC set the rules for the program in Decision 22-04-055.
The CPUC received feedback from stakeholders that an initial draft map released at the end of 2022 did not show numerous unserved locations, needed to better incorporate equity into the eligibility process (including leveraging existing metrics for disadvantaged communities), and that the CPUC should provide more data to enable applicants to evaluate areas and develop their projects.
Based on this feedback, the CPUC changed the map by removing pre-defined priority areas and updating the underlying data to better reflect the number of unserved locations. The award of up to 20 points in the scoring rubric for "existing broadband service need" will be based on disadvantaged community indicators, with additional details forthcoming in the applicant tool.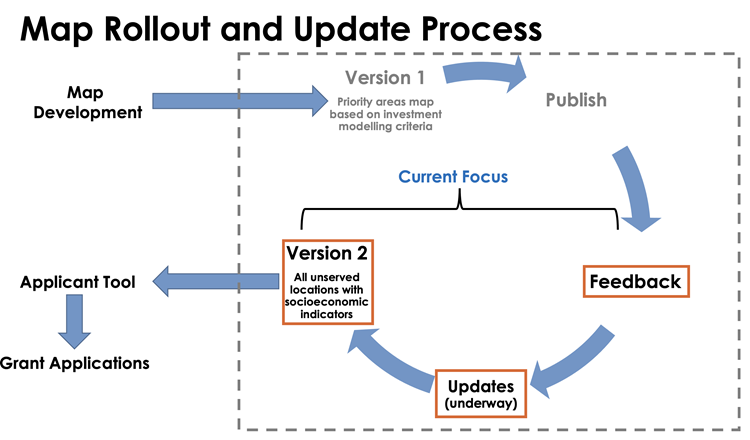 Federal Funding Account Public Map, Version 2
The updated interactive Federal Funding Account Public Map shows eligible unserved locations for the Federal Funding Account, incorporating feedback from throughout California.
The

Public Map

may be used by grant applicants to plan last mile broadband project grant proposals for the Federal Funding Account.
An associated Data Dictionary (updated May 2, 2023) is available to download.
The Map User Guide (New, May 2) provides an overview of how to use the Public Map to view information and provide comments on potential project areas.
Public Map Feedback
Members of the public, public entities, and communications providers are welcome to contribute feedback on the eligible areas. Public comments can be made directly on the map by clicking on an area, then clicking on the "Add Comment" button, and filling out and submitting the feedback form.
Next Steps
The CPUC will provide additional information regarding the Federal Funding Account application process in the upcoming months. In May, the CPUC will release an applicant tool that will provide informational engineering, economic, and business case data in the form of cost models. Potential applicants may use the tool as they develop and prepare their applications. In June, the CPUC will provide access to the grant application portal and begin accepting applications.
County Project Allocations
SB 156 requires that, of the $2 billion dollars ($2,000,000,000) appropriated to the commission to fund last-mile broadband infrastructure in the Budget Act of 2021, the commission must initially allocate $1 billion ($1,000,000,000) for last-mile broadband projects in urban counties and $1 billion ($1,000,000,000) for last-mile broadband projects in rural counties (see Public Utilities Code section 281(n)(3)).
Each county, regardless of size, has $5 million set aside for grants for projects in that county. The remaining funding is allocated based on each county's proportionate share of California households without access to 100 Mbps broadband internet service.
This statutory requirement is set to expire on June 30, 2023. However, the CPUC adopted this allocation methodology in Decision D.22-04-055, and, as such, the county allocations will continue indefinitely.
More Information
Contact
Email questions about the Public Map to: federalfundingaccount@cpuc.ca.gov.