Broadband Implementation for California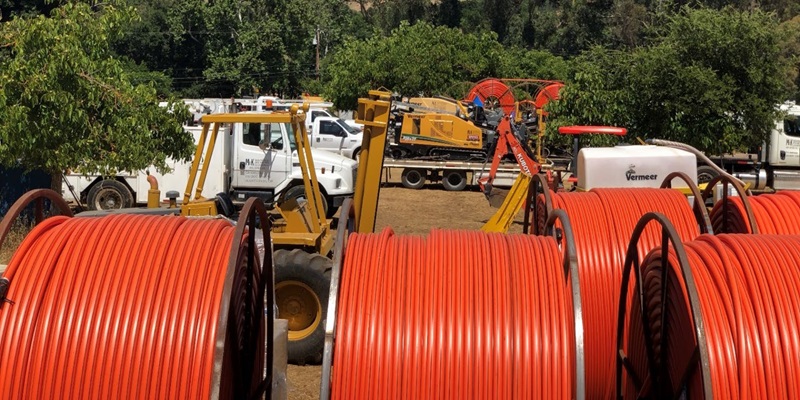 Broadband

Implementation for California
The goal of this investment is to provide equitable access to high-speed broadband to unserved and underserved populations in California. The $6 billion is allocated for the following:
$3.25 billion for an open-access statewide broadband middle-mile network,

$2 billion for broadband last-mile infrastructure projects,

$750 million for a loan loss reserve to support local government broadband infrastructure development, and

$50 million for local agency technical assistance grants including funding for Tribal entities.
The California Public Utilities Commission (CPUC) is implementing these investments and requesting public input through the Broadband Infrastructure Deployment Proceeding Rulemaking 20-09-001 and through the California Advanced Services Fund (CASF) Rulemaking 20-08-021. Here is a summary of the budget package and an overview presentation about broadband implementation in California.
Open-Access Middle-Mile Network
The State of California will acquire, build, maintain and operate an essential open-access statewide middle-mile network, which will be overseen by the California Department of Technology (CDT). The CPUC requested formal public comments twice on the open-access middle-mile. Here is a draft presentation providing an overview of public comments the CPUC received in response to an August 6, 2021 Ruling requesting input on middle-mile locations and a September 9, 2021 Ruling focused on network characteristics. More information on the CPUC's middle-mile activities can be found here.
Last-Mile Federal Funding Account
To complement the middle-mile network, the Broadband Infrastructure Package includes $2 billion to build last-mile infrastructure to provide Californians with access to high-speed broadband service. The money will be issued through the Federal Funding Account administered by the CPUC.
Read more on the Federal Funding Account.
Local Agency Technical Assistance
The technical assistance grant program provides $50 million to reimburse eligible local governments and Tribal entities for work that facilitates last-mile broadband infrastructure to communities lacking sufficient Internet. On February 24, 2022, the CPUC adopted the technical assistance decision and program guidelines (D. 22-02-026) as part of the California Advanced Services Fund Rulemaking 20-08-021.
Read more about the Local Agency Technical Assistance grant program.
Loan Loss Reserve
A $750 million Broadband Loan Loss Reserve Fund supports costs related to the financing of local broadband infrastructure development. The reserve fund expands local governments' ability to secure financing for building last-mile projects, with an emphasis on public broadband networks. The CPUC's procedural schedule for establishing the program is outlined in a September 16th ruling in the California Advanced Services Fund Rulemaking 20-08-021. A staff proposal for implementing this fund, including a request for public comments, is anticipated by Spring 2022.
Participate and Learn More
Provide Input to the CPUC
We recommend subscribing to the service list to track a relevant proceeding. You may also consider becoming a party if you would like to participate in a proceeding. The Open-Access Middle-Mile and Last-Mile Federal Funding Account are part of the Broadband Infrastructure Deployment Proceeding Rulemaking 20-09-001. Local Agency Technical Assistance and the Loan Loss Reserve Fund are part of the California Advanced Services Fund (CASF) Rulemaking 20-08-021. The CPUC Public Advisor's Office can help with following and participating in agency processes as a formal party or via informal public comments. https://www.cpuc.ca.gov/pao
Participate in Public Meetings
Middle-Mile Advisory Committee Meetings:
December 15, 2021,1:00-2:30 pm
January 19, 2022,1:00-2:30 pm
February 16, 2022,1:00-2:30 pm
Learn More
CPUC Broadband Implementation for California
CDT Middle-Mile Advisory Committee
Contact Us
Media Inquiries: news@cpuc.ca.gov
Questions and Requests: StatewideBroadband@cpuc.ca.gov
Broadband Implementation for California